Single-Point
Fuel Admission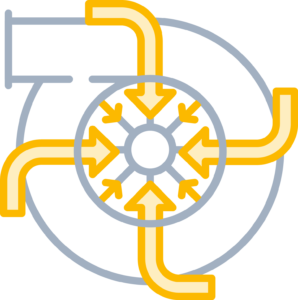 Benefits
Most cost-effective dual fuel conversion
Simplest conversion
Can run 100% diesel or a mixture of diesel and up to 80% natural gas/alternative fuel.

Reduction in carbon soot buildup

Longer period between maintenance cycles
Longer engine life
What is the Economizer?
The Economizer is a cost effective dual fuel conversion system for industrial four-stroke diesel engine. Typically provided as a kit, it enables the use of alternative fuels economically without requiring the replacement of engines or significant engine components. Natural gas or alternative fuel replacement typically ranges from 40-80%.
The system is designed to be installed on new or existing diesel engines without modifying any internal engine components. Engines can continue to run in diesel-only mode after installation. In most cases, the Economizer kit can be installed by local technicians, but installation by E² professionals is also available. Final tuning and testing is typically performed by E² service technicians on a separate service call.
Dual fuel units allow the user the flexibility to run diesel-only or a combination of dual fuels. The Economizer is engineered to be fail-safe; critical variables for dual fuel operation are monitored by the Economizer's ECU and in the event that gas operation is no longer warranted, full diesel-only operation is resumed instantly and seamlessly with no interruption of engine service.
The Engenious™ Engineering Economizer system can be adapted to virtually any four-stroke diesel, and is offered in three standard models with each model covering an approximate range of engine generator power.
System 1: 150 to 300 KW Single Turbo
System 2: 300 to 1000 KW Dual Turbo
System 3: 1000 to 2000 KW Dual and Quad Turbo
(Smaller and larger conversion systems are also available)
Installation of the hardware usually takes a couple days:
The site needs a gas supply line with at least 2 PSI of available gas pressure. The supply needs to be routed to the engine area, and the Engenious™ Engineering supplied regulator, filter, and control valves need to be plumbed in.
The Economizer kit includes sensors to measure critical engine functions like speed, load, knock level, boost pressure, water temperature, governor position and gas pressure. All must be properly mounted to the engine.
Wire harnesses can be provided pre-assembled for certain engines. Other engines will require a custom harness assembled on-site.
The Economizer kit also includes an ECU (Engine Control Unit) which will require power.
The controller program is custom tailored to match the details of the engine/governor design. Fuel tables are developed for new engine families on site. During the testing the fuel table numbers are generated and programmed into the control system. For engines previously converted, only a short test and confirmation of proper operation is necessary.
An Engenious™ Engineering conversion is a sound investment for power users who are looking to upgrade their current system to alternative fuel technology without scrapping and purchasing an entire system. As a retrofit technology, the E²system provides an economically attractive alternative to buying costly new generators.
With the ability to operate both fuels, the engine will never be down due to a lack of adequate gas fuel supply. Another distinct advantage of dual fuel is the reduction of carbon soot buildup and cleaner lube oil. This results in decreased engine wear, longer expected life for your engine, and better overall return on investment.
To determine approximate cost savings you will need to calculate your present fuel cost, your projected fuel replacement percentage and replacement cost with natural gas. Ask an E² representative to help you in determining your annual cost savings, including fuel and maintenance.
When considering the cost of natural gas and comparing options for using it as a fuel, discuss the contract options with your gas supplier. Many suppliers are willing to give better rates if they are able to interrupt your fuel supply. A lower priced "interruptible" rate often makes the Economizer solution a healthy return on investment (ROI).
Depending on the engine and configuration, EE has many tools to ensure maximum substitution of diesel with alternative fuels. Since each engine family has different fuel timing, combustion chamber design, compression ratio, and turbocharger configurations, all have different tolerance for natural gas can be expected. To optimize the dual fuel operation, EE will employ methods like RTCDC and monitor cylinder by cylinder knock and/or combustion for optimized control.
Engenious
™
Engineering's well-considered Economizer conversion system includes an electronic engine control unit (ECU) and industrial grade sensors. These components work together to protect critical engine parameters while maintaining the highest possible gas fuel replacement.
The ECU monitors various temperatures, pressures, and engine knock to determine when it is appropriate to operate with natural gas. When all parameters are within proper levels, dual-fuel operation is enabled and low pressure natural gas is delivered through an air/fuel diffuser to the intake air. Gas travels in the intake manifold to the combustion chambers, where it is compressed and ignited with a small amount of diesel "pilot fuel".
To stay one step ahead of this variable, the Economizer ECU utilizes closed-loop control to maintain maximum fuel replacement while protecting the engine from combustion knock or excessive temperatures. The EE developed Gas Flow Control Valve continually modulates the gas supply to the engine, making transitions between power levels smooth and stable.
E² provides a full suite of solutions available with the ECU.  The Engine can be run with remote access, diagnostic data collection, and connect to your facility's SCADA system.
CAT 3512
CAT 3406
CAT C18 Electronic Engine
CAT 3608 2400kW
Cummins KTA50 G3
Cummins KTA50 G9
Cummins KTA 50 Locomotive
Cummins KTA 38
Cummins KTTA 19
GE 16 7FDL Locomotive
GE Dash 9 Locomotive
Mitsubishi SN8PTA
Mitsubishi S16RPTAA 2000kW
Wartsila 18V32 7.8 MW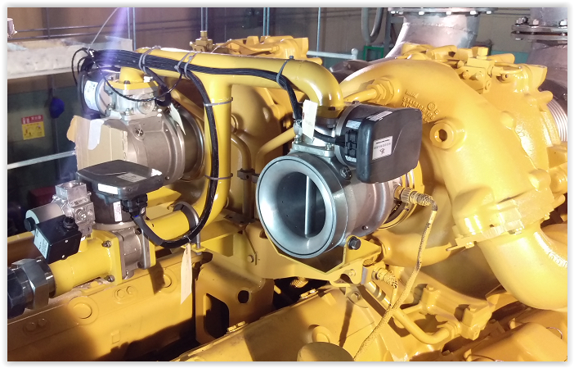 The Economizer package can be adapted to many different engines. Contact us if you don't see yours listed. 
Can a converted engine be run on 100% diesel?
Which standard engines can be converted to dual fuel?
CAT 3512
CAT 3406
CAT C18 Electronic Engine
CAT 3608 2400kW
Cummins KTA50 G3
Cummins KTA50 G9
Cummins KTA 50 Locomotive
Cummins KTA 38
Cummins KTTA 19
GE 16 7FDL Locomotive
GE Dash 9 Locomotive
Mitsubishi SN8PTA
Mitsubishi S16RPTAA 2000kW
Wartsila 18V32 7.8 MW
Additional engines - please fill out project questionnaire
My engine is not on the list, is a conversion possible/available?
Yes, almost any engine can be converted to dual fuel. Please fill out the project questionnaire or contact E² for more engine-specific details.
What if my gas quality is poor and constantly changing? Can the system adjust for this?
Are there additional upgrades that can be completed during the conversion to dual fuel?